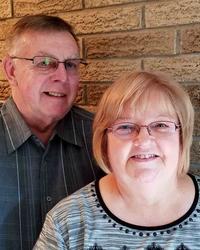 Frank and Sue McAllister grew up in Pine River, MN. Frank graduated from Pine River High School in 1966, entered the Army Reserves and graduated from Wadena Technical College, Wadena, MN, in 1968. Sue graduated from Pine River High School in 1971 and attended Central Lakes College in Brainerd, MN.
Frank and Sue were married in 1971. They later moved to Alaska and lived there for 6 years. They returned to Minnesota in 1982 and purchased Sherwood Sales & Service, a marine and lawn & garden dealership in Pine River. Frank had previously worked there before moving to Alaska. They changed the business name to All Seasons Power Equipment, Inc. They won the Circle of Excellence award from John Deere Co., sales award from Stihl, and they also sold outboard motors, boats, snowmobiles, and other equipment. They operated the business until 1994 when they decided to take their careers on a different path.
In 1994 Frank acquired his real estate person license and started working in Brainerd Lake area. Sue acquired her license in 1995 and started working with Frank as a team. Later Frank acquired his broker's license. While working in Brainerd they received sales award for the company they were working with. They opened their own real estate office in Pine River in 2002. In 2012 they started spending winters in Florida, and then spent 2 years there full time. In 2016 they decided to move back to Minnesota full time and continue their real estate career. They has always liked the Park Rapids/Menahga area, and have relatives in Menahga, so they decided to purchase a home in the Menahga area. This led them to Coldwell Banker Clack & Dennis.
Frank and Sue were members of the Pine River Chamber of Commerce for several years, and Frank served on the board of directors. Sue was on the education committee for 3 years, a regional representative for 2 years, and a director on the board of directors for the Greater Lakes Association of Realtors for 2 years. Sue served as office administrator for Riverview Church in Pine River.
Frank and Sue have 3 children, a daughter Deborah (Tim) Shaikoski, and a daughter Danelle (Nathan) Walberg. They lost Dale in a car accident in 1998 at the age of 22. They have 7 grandchildren, whom they enjoy spending time with.
In their spare time, Frank likes to hunt, fish ride 4 wheeler, and about anything outdoors. Sue likes to quilt, sew, work in the flower gardens, and read.